Malaga: A Great City Right Next Door
'close to everything'
There are many things that Malaga is famous for — treasures of history and culture, culinary and shopping delights, vibrant nightlife and, of course, its role as a major transportation hub. For example, when Condé Nast Traveler included the city on its 2023 list of must-visit places in Spain, one of the many reasons it cited was this: "the ease of getting there from other parts of Spain and Europe."

In another telling example, Malaga topped the list of the world's best alternative capital cities, according to Forbes Magazine. All of this, don't forget, is just an easy 30-minute drive — or a train ride — from Benalmadena!.
unforgettable landmarks
Steeped in history
Malaga's origins go back some 3,000 years to Phoenician times when it was an important trading post called Malaka. The Romans, who arrived around 200 BC, left many vestiges of their 600-year presence here, as did the Moors, whose seven-century rule made an indelible mark on southern Spain.

La Alcazaba, a massive fortress-palace built in the 11th century under the reign of the Moors, is a must-see sight that you can't miss as it towers over the landmark-rich old town. Highlighting the city's storied past, the fortress overlooks a well-preserved theater dating back to the Roman era.
Another striking example of the interconnectedness of cultures is the Malaga Cathedral (the Cathedral Church of the Incarnation). Cherished as a jewel of the Spanish Renaissance, it was built on the site of the Great Mosque after Castilian troops drove out the Moors from Malaga in 1487.

The Cathedral´s construction (1528-1782) had a long and complicated history with numerous interruptions, but the evolution of each of the phases of the sprawling and beautiful temple contributed to its diversity of styles. While the spectacularly tall North Tower is visible from many parts of the city, the cathedral's south tower was never finished. It gave rise to various theories about the reasons for the lack of funds needed to complete it, and to a popular nickname, "La Manquita," rougly translated as the "one-handed woman."

Among more recent landmarks, the city's main street, Calle Larios, was hailed as the most elegant street in Spain when it was built at the end of the 19th century.

Architectural gems of the early 20th century include the neo-Gothic Church of the Sacred Heart (Iglesia del Sagrado Corazón) and the Modernist-style headquarters of Banco Hispanoamericano.


CITY LIFE: NEVER A DULL MOMENT
A 'Stunning Corner Of Andalucia'
In a survey that ranked Malaga as its top choice among best "alternative" capitals, Forbes Magazine highlighted cities with the level of attractions and amenities usually associated with national capitals.

"Visit for yourself and you'll soon see why the world's eyes are turning to this stunning corner of Andalucia," Forbes wrote, pointing to Malaga's nature, historical landmarks and cultural heritage. network of highways is within a quick and easy reach from the city.


Aside from a dazzling array of museums, the city boasts a remarkable artistic district, Soho, where you can view street art, browse galleries, shop at boutique shops or enjoy a tasty meal or a relaxed drink at nearby restaurants and bars. This lively district is also the site of a major artistic project by another one of the city's famous native sons — the actor and director Antonio Banderas.

He launched Teatro del Soho in 2019 with the musical, A Chorus Line, to a resounding success, followed by Company, Stephen Sondheim's Broadway classic of the 70s. There were plans for a musical on the life of Picasso to be done in English and later staged on Broadway, in "a new milestone," according to Antonio Banderas.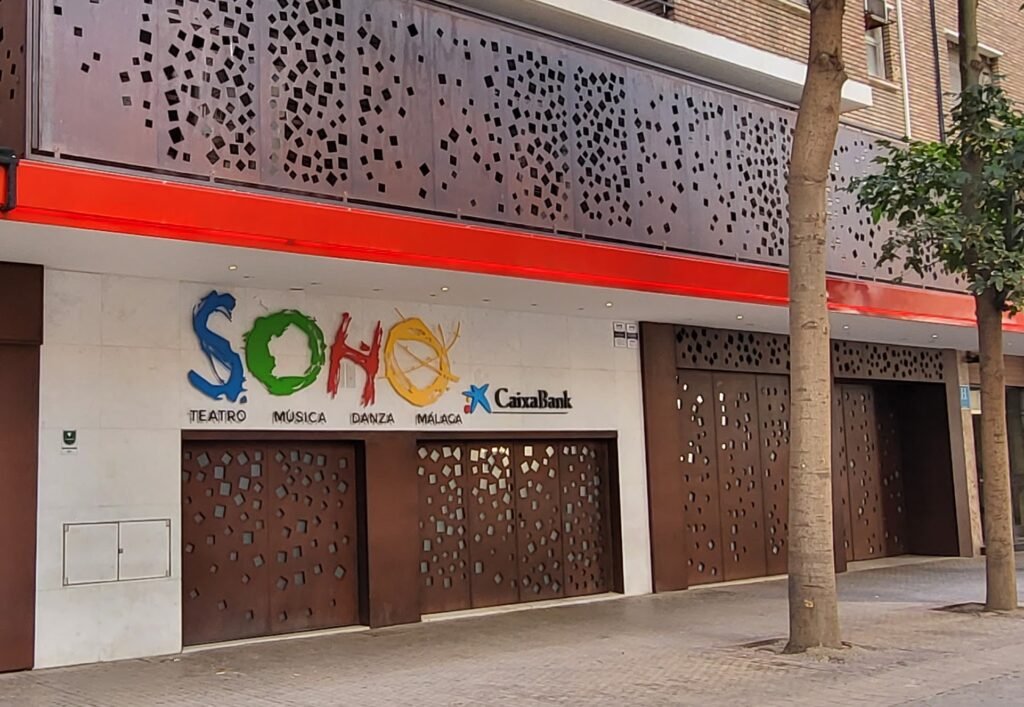 Fiesta city: festivals for all seasons. From a stunning light display at Christmastime to the unforgettable procession of enormous floats around Easter's Semana Santa to the annual fair (Feria) in mid-August — the city is full of life and excitement around the year.
No surprise: Malaga won the top spot among Spanish cities, and the second overall, among "Best Sunny Christmas Markets in Europe 2022." BestEuropeanDestinations.com, which compiled the list, called Malaga "one of the trendiest destinations in Europe".
FROM ART MASTERPIECES TO FUN FOR THE KIDS
The City Of Museums
"Among the best places to discover the celebrated 20th-century Spanish artist [Picasso] is the sun-splashed, seaside city where he was born."
Museum of Pablo Picasso, Malaga's most famous son, may be the most iconic art gallery here. But the city offers an ever expanding number — now closing in on 40! — of other great museums.

The renowned Carmen Thyssen Museum focuses on 19th century Spanish painting. But it also stages special expositions featuring masterpieces of international art. A recent example: "Belgian art. From from Impressionism to Magritte", with some 70 works from Musée d'Ixelles in Brussels on display.
Enjoyed your visit to the famous Centre Pompidou in Paris? — You have a chance to view its collections in Centre Pompidou Malaga, the first branch of the storied Paris gallery to be created outside France.

The Center's pavilion is an architectural landmark in its own right — a striking multicolored cube facing the marina. Modern art is also the theme of Centro de Arte Comtemporáneo (CAC) that highlights trends of the 20th century.
Artifacts of the past? — Museum of Malaga offers a wealth of archeological and art exhibits from different eras.
History of aviation, automobiles or wine? — You will find much to enjoy in the museums devoted to aeronautics, cars and wine.
Not just for grow-ups: Interactive fun places for the kids include the Center of Sciences, Museum of the Imagination or Museum of Music (MIMMA).
Transportation Hub Nonpareil
Malaga is a fantastic place to visit in its own right, but it is also a wonderfully convenient transportation center to use as a home base to explore the historical and cultural richness of Spain and all of Europe. From its international airport, there are at least 150 routes to European cities, and now there are direct flights linking it to New York and Newark in the United States.

Highspeed trains connected Malaga to some 30 Spanish and French cities, not to mention numerous medium-distance and local connections to places in Anadalucia and beyond. Add to it a beautiful seaport capable of receiving the world's largest cruise ships and excellent bus services for comfortable and affordable travel around the area.
destinations aplenty
Malaga International Airport
Also known as the Pablo Picasso airport in honor of Malaga's famous native son, it's the most important airport of Andalusia, serving as the main gateway to the Costa del Sol where millions of visitors arrive every year.

The Malaga-Costa del Sol Airport is the 4th busiest airport in Spain. And it's the 3rd in air connections, behind only Madrid and Barcelona. Also known as the Pablo Picasso airport in honor of Malaga's famous native son, it's the most important airport of Andalusia, serving as the main gateway to the Costa del Sol where millions of visitors arrive every year.

From Malaga, you can find direct flights to some 120 destinations, many of them in Europe, including some 20 routes to Britain. There are multiple options for cities in France, Italy, the Netherlands, Portugal, Germany and Ireland, among others. If you want to fly via Scandinavia, you're in luck: Denmark, Finland, Norway and Sweden all have easy links to Malaga. And, of course, the rest of Spain is easy to reach with some 30 direct flights at your disposal.

At the end of May 2023, United Airlines launched a new route of non-stop flights between Newark (EWR) and Malaga (AGP). The seasonal service which included three weekly flights was a big success and will resume even earlier in 2024 with more flights.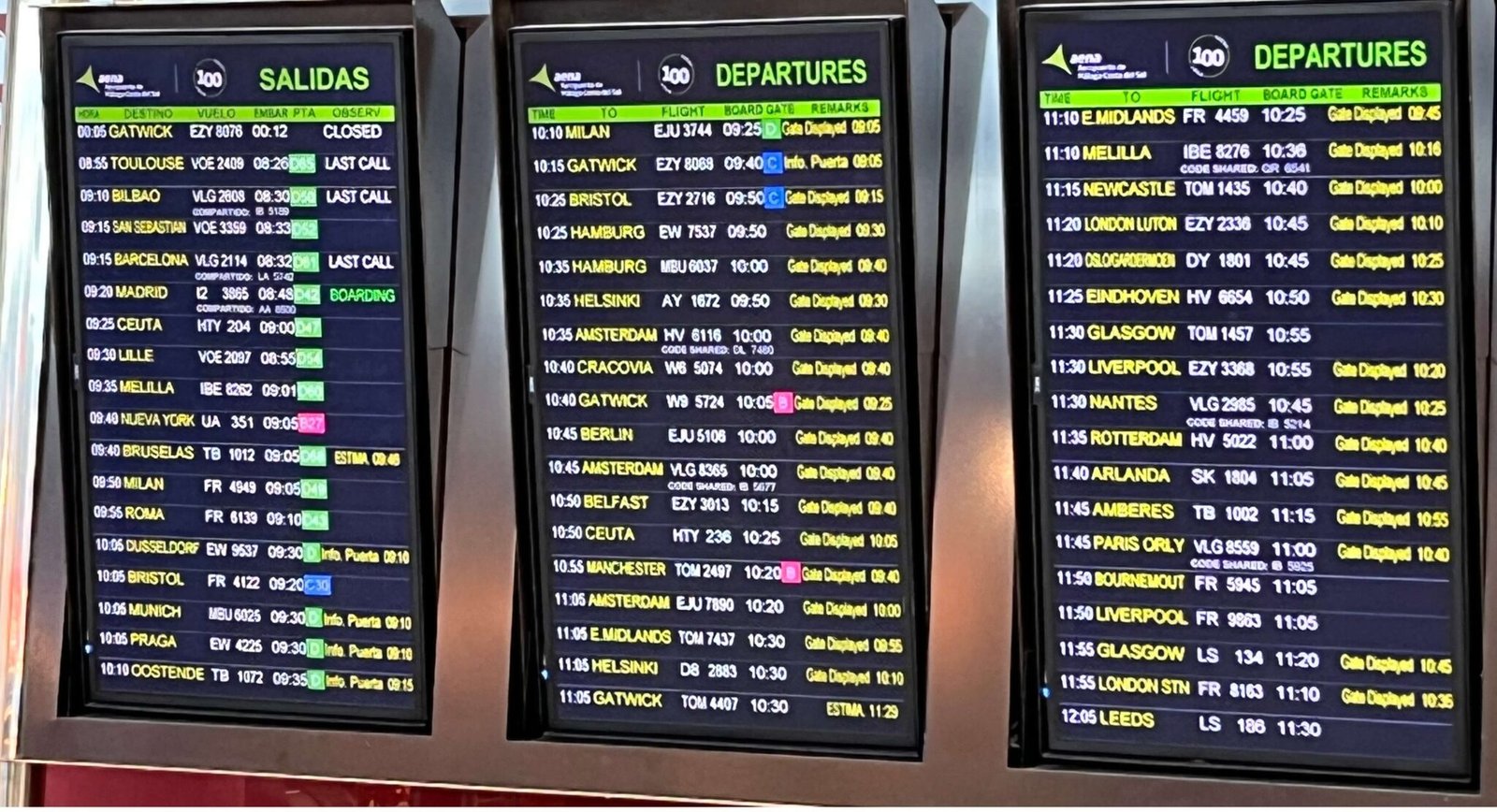 Speed & convenience
Train Station: From Bullet Trains to Local Service
The Maria Zambrano railway terminal is a vital part of Malaga's outstanding transportation network. It combines very convenient local train lines with superb bullet-train service. All of this makes trips to key destinations in Spain and elsewhere in Europe a fast, comfortable and affordable experience.

Amid strong competition, choices for high-speed train service from Malaga keep expanding as new operators join the fray to exploit the opportunities presented by a recent opening of the rail market in Spain. Among them is Iryo, an international consortium that includes the Italian giant Tranitalia. Iryo's participation is expected to add even more scheduling choices for passengers while helping to keep ticket prices reasonable. The trains feature many amenities onboard, cozy seats and generous luggage space to power sockets and free Wi-Fi.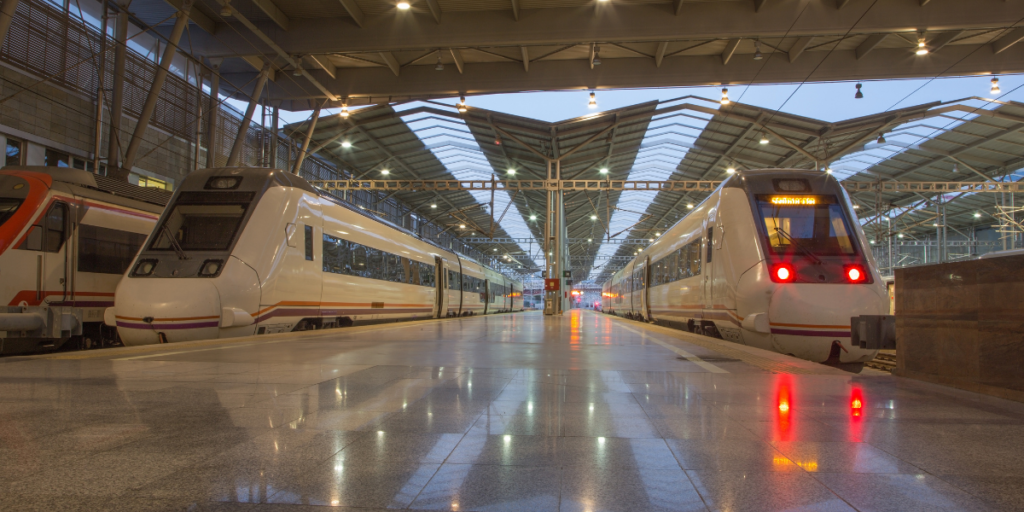 Feel like visiting Madrid to see the masterpieces of the Prado Museum? No problem: the fastest bullet train will cover the distance of 260 miles in only 2h 30 minutes. (The longest ride is 3 hours).
Want to enjoy the cultural and historical treasures of Seville? Easy: a speed train from Malaga will get you there in 1 hour 55 minutes.
Set Sail for Costa del Sol
Malaga Seaport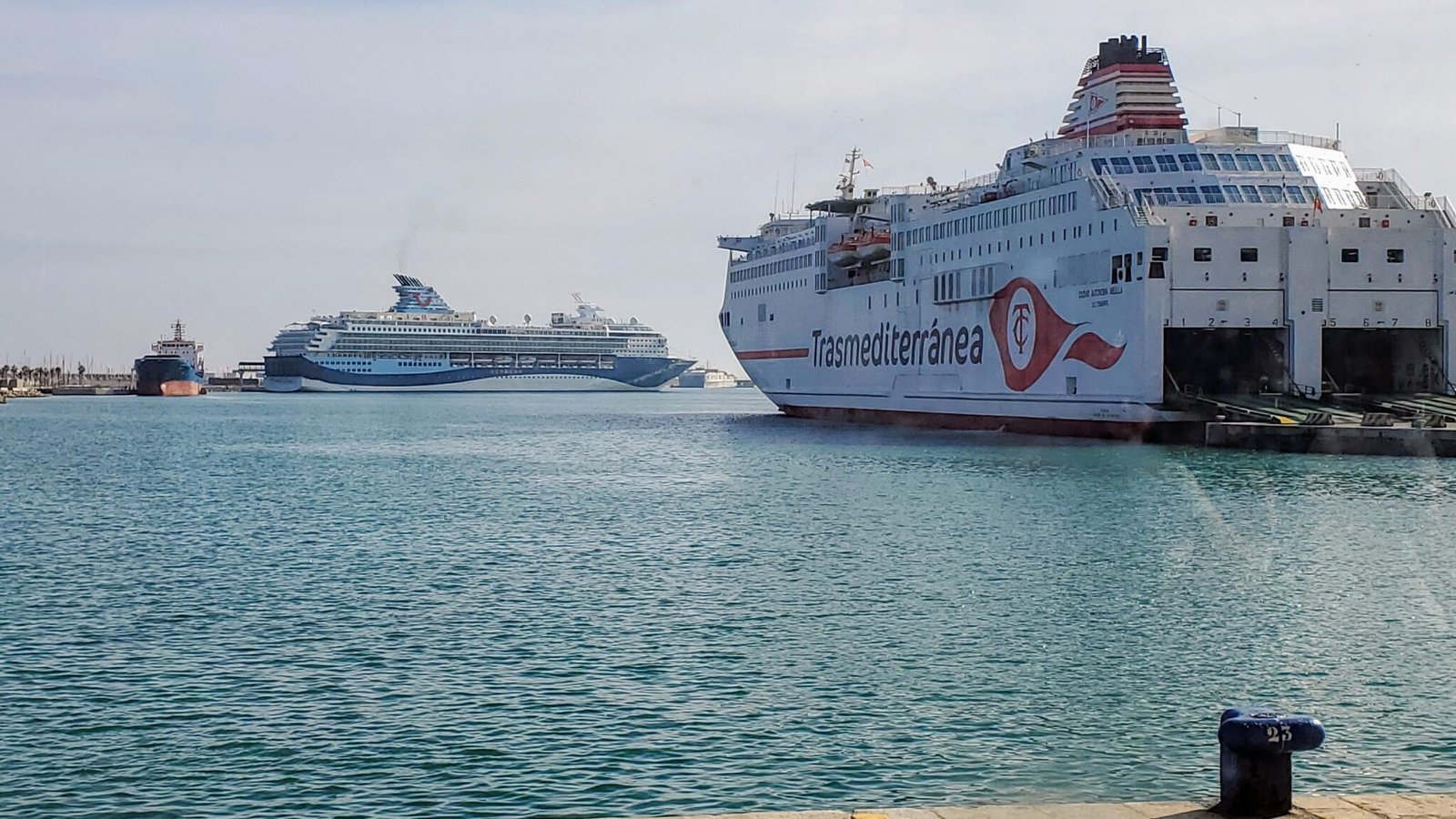 If you're going on a Mediterranean cruise, chances are you will have a joyful stopover in Puerto de Málaga, a major international seaport and Spain's key cruise terminal that occupies a perfect strategic location with its close proximity to the Atlantic.

Protected by a natural bay and located close to the city's historical center, the port is both a scenic delight and a perfect gateway to Malaga's landmark sights and attractions. Málaga Cruise Port offers top-notch facilities and services for the world's largest and most exclusive cruise ships.
When the world's largest cruise ship, The Wonder of the Seas, docked in Malaga recently, it became a huge draw for the locals while the liner's passengers enjoyed Malaga.
Málaga Cruise Port is part of the network of the largest independent cruise port operator in the world, the Global Ports Holding.