An enjoyable way of life that comes easy
It's been described many things: relaxed, easy, calm, active, Mediterranean, southern, outdoor, international…

Each one of these descriptions captures an important aspect of Costa del Sol lifestyle in general, with Benalmádena being a perfect example. If you're into the "active" part, choices for a healthy lifestyle abound during all seasons: from golfing, hiking and biking to racquet sports, kayaking and water skiing. Don't forget that winter-time skiing is also within easy reach — in Sierra Nevada (just a 2.5-hour drive away).
TEEING OFF AMID GORGEOUS VIEWS
Golf: A perfect setting to perfect your swing
TEEING OFF AMID GORGEOUS VIEWS
When you're driving to or from Benalmádena on route N-340, a scenic highway that hugs the seafront, you will come up across big signs proclaiming, "Costa del Golf." Indeed, this part of Malaga Province is not just the Sun Coast, it's also the Golf Coast, with high concentration of world-class courses.

Benalmadena is no exception. One of the region's top-rated courses, Golf Torrequebrada, is located right here. Praised for its beauty and diversity of fairways, this 18-hole course was designed by Jose Gancedo, known as the "Picasso of Golf. In July 2022, it drew 94 players from 21 countries to compete in the professional European tour of LETAS and Santander.

Costa Golf Guide calls it "one of the most beautiful golf courses on the Costa del Sol," noting that Bing Crosby favored the course over any other on the coast.
Another popular course is the superbly located 18-hole Campo de Golf Bil Bil House with three of its holes affording sea views.

If you need to practice the short game, the 9-hole Benalmádena Golf will offer a great place to play while enjoying beautiful views. Benalmádena Golf was a recent winner of the Pitch & Putt Excellence Course Award.

For avid golfers there are many other options within an easy 30-minute drive from the city, among them the La Cala Resort, Calanova Golf Club or Lauro Golf. Marbella's Real Club de Golf Las Brisas is also just a short drive from here.
A walkable city for a healthy lifestyle
taking a stroll
There has been a flurry of medical research recently highlighting the benefits of walking. According to Harvard Medical School, walking, in part, boosts immune function and helps to counteract weight-promoting genes.

Findings at the University of Victoria in Canada show that going even for a short walk outdoors provides people with more mental health benefits than going for a same-length walk inside.

All well and good, but here's a question: how easy and safe is it to go for an outdoor walk? Are there convenient sidewalks and pedestrian crossings? Is there street lighting? Are there nice views to take your mind off daily worries and stressful thoughts? Are there hilly stretches if you want some extra exercise? How often does it rain? Do you need to bundle up?

Well, there are objective reasons why Benalmadena offers a winning lifestyle proposition on all of the above points. An average of 320 sunny days a year certainly helps, as does low-humidity weather, clean and colorfully paved sidewalks and ample lighting throughout the city.
Active lifestyle: Plenty of choices for all seasons
a cure for sedentary habits
Benalmádena's 5-mile stretch of Blue-flag beaches and rocky coves offers plenty of choices for water sports and activities. Around Puerto Marina there are fishing trips, jet ski hire, scuba diving, kayaking and water skiing.

For adrenalin-pumping fun, you can go for flyfishing and parasailing, or a ride on a high-powered waterjet speedboat. For something less extreme, but still challenging, you can try the so-called Stand Up Paddle, which is a big hit here. It's lots of fun, and a good workout, as you try to balance yourself on a long surf board with just a paddle.
For the sailing enthusiast the marina is home to a nautical club that offers many social and sporting events.
If you are a mountain bike enthusiast who enjoys challenges, the downhill trail from the top of Monte Calamorro will test your skills and please your eye with stunning views. The Teleferico cable car service offers a variety of options for cyclists to get there.

If your preference is racquet sports, you can play tennis or the highly popular padel pretty much all year round. It's what the doctor ordered for a healthy lifestyle.

And don't forget: in the winter time, you are only a 2.5-hour drive from an excellent sky resort in Sierra Nevada.
The biking trail in Benalmadena with the most elevation gain has an ascent of over 7,000 ft. The longest trail is estimated to be about 30 miles.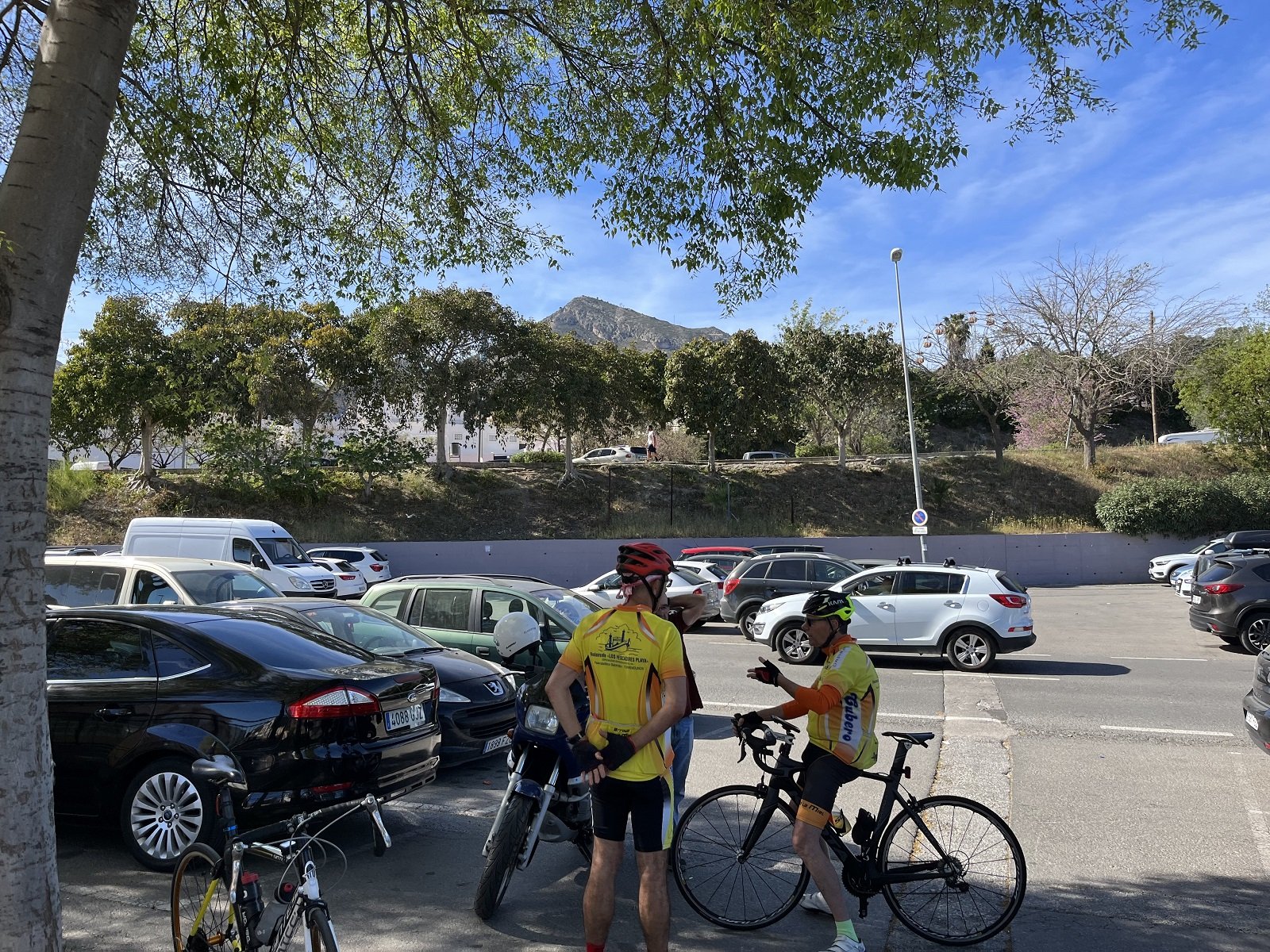 A knack for celebrating traditions and life
family & friends: keys to a healthy lifestyle
There's not a month in Benalmádena and its immediate environs that passes without some of kind of memorable festivity, religious or cultural observance, or an array of other public events.

The tradition of annual ferias goes back centuries: it was an occasion for merchants and farmers to do business and then follow its conclusion with merry making. These fiestas bring people together — adults and children, locals and foreigners — to enjoy the occasion, in most cases with ample food, drinks and music to add to the atmosphere.
At the end of May-early June, for example, Pueblo, the old city, turns into a site of floral displays and aromas. As part of the Corpus Christi celebrations, local residents create carpets that are laid out in the streets.
In June, the traditional "Feria de San Juan" is a spectacular event of gastronomy and entertainment, including the famous Night of San Juan when rag dolls symbolizing bad experiences are burnt in bonfires set on streets and beaches.
In July, the seafaring nature of the city is reflected in the celebration of La Virgen del Carmen, the patron saint of sailors.
Benalmádena being a cosmopolitan city, it's not just Spanish traditions that are celebrated, St. Patrick's Day being a prime example.

During the long summer, the townhall also organizes a free outdoor cultural program, which includes live performances of classical music and popular music, as well as flamenco dancing and circus shows.
Antique flea markets are a popular pastime here as well, with a clear international flavor. For instance, when browsing through second-hand books you can find publications in many languages — from English and French to German, Finish or Dutch.
Eating out: Savoring a favorite pastime
culinary pleasures
It's a scene you'll encounter walking around any Spanish town, but it's particularly typical for the tirelessly sunny Costa del Sol. Tables set up under awnings outside seemingly endless rows of cafes, tapas bars or restaurants that appear to be full of people at any time of the day.

Some folks may be on their own, enjoying a leisurely — that's important; nobody's rushing — coffee or a beer, or in a group, having a lively and very involved conversation.

It's even part of the sports scene: golf courses, tennis or padel courts usually have cafeterias and bars, so you can refresh yourself with a cold beer after a tough match, or have a bite to eat while cheering for your friends on nearby courts.
Dining with a view is part of the deal: whether right by the sea or higher up in the mountain slopes, many restaurants and bars add gorgeous vistas to the menu, for free.

There's a multitude of restaurants in all three parts of the city where you can find delicious dishes of pretty much any cuisine at every price point. Research shows that Mediterranean diet, with its emphasis on vegetables, fruits, olive oil, fish and seafood, is a big contributor to a healthy lifestyle here.

Espetos, or sardines grilled on a cane skewer, is a traditional dish in the Malaga region.
Everybody loves a dog (or three…)
pet-friendly?
People walking their dogs is as common a sight in Benalmádena as blue skies, green trees or mountain views. Dog owners insist that walking their dogs is not a chore, but a pleasure and a big factor in maintaining a healthy lifestyle.

Getting up early in the morning to make it to work is obviously not a problem, and evening strolls along the shore or up and down the hills is clearly a joy for both dog owners and their beloved charges.

Those who would like their dogs to run free and exercise, can go to parques de perros, or special dog parks.

In 2015, Benalmádena opened its first such facility with a training area of over 6,000 sq ft equipped with a special agility circuit. There are also special dog beaches, like Benalcán that features picturesque coves and rocks.